Reaction Injection Molding Home > Reaction Injection Molding
Services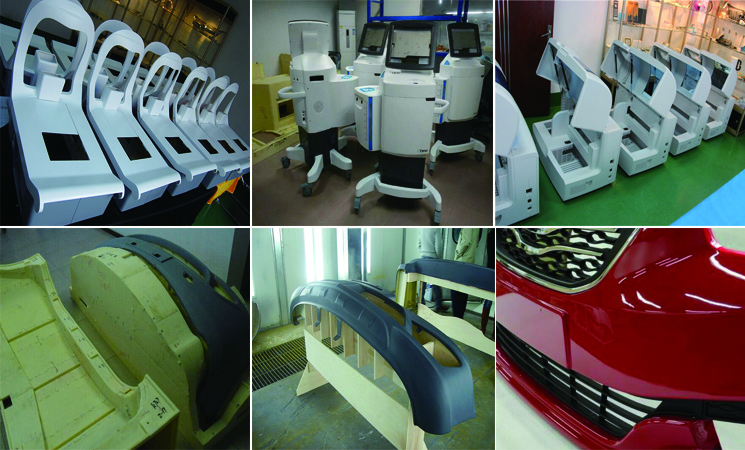 Reaction Injection Molding (RIM) technology was developed in the late 1960s by Bayer AG. Since then, the technology has evolved dramatically as more and more product designers and manufacturers have learned to tap the unique capabilities and benefits of RIM for an ever-growing range of products. The universal physical characteristics of RIM parts are high strength and low weight.
Like thermoplastic injection molding, RIM is a plastics-forming process that uses molds to form parts. But the similarity ends there.
It's helpful to view RIM not as a specific resin with narrowly defined properties, but as a process capable of achieving a broad range of properties. As its name implies, the polyurethane RIM process uses polyurethanes to produce molded parts. The polyurethanes begin as two liquid components, compared with the pellet form of most thermoplastics. These liquid components - an isocyanate and a polyol - are developed in two-part formulations, which are often called polyurethane RIM systems.
Depending on how the RIM system is formulated, the parts molded with it can be a foam or a solid, and they can vary from flexible to extremely rigid. Thus, polyurethane RIM processing can produce virtually anything from a very flexible foam-core part to a rigid solid part. Part density can vary widely, too, with specific gravities ranging from 0.2 to 1.6.
Reaction Injection Molding (RIM) produces parts with intricate detail that are dimensionally stable, chemically resistant, physically tough, and wear resistant. This process is an excellent choice for larger plastic parts produced in short run or low volume production quantities.
l Polyurethane molded parts in 2-5 weeks
l Excellent flowability allows molding complex geometry including: louvers, ribs, bosses and openings
l Superior cosmetic appearance for visibly critical applications
l Superb encapsulation ability
The process takes its name from a chemical reaction that occurs within the tool. The plastics used are thermosets, either polyurethanes or foamed polyurethanes. The two components that produce the polyurethane are mixed just prior to injection into the tool. With the low viscosity and low injection pressures, large, complex parts can be produced economically in low quantities.
Considerable design freedom is possible, including thick and thin wall sections that are not good for injection molding, due to the uniform shrink characteristics. Foamed polyurethanes are natural thermal and acoustic insulators. Excellent flowability allows for the encapsulation of a variety of inserts.
Reaction Injection Molding is used in many industries for many types of parts. While bumpers for vehicles are produced in this process, most applications are for large, complex parts produced in quantities less than 5,000 units. Examples include panels for electrical equipment, enclosures for medical devices, and housings for computer and telecommunications equipment.
Reaction Injection Molding Process
The two parts of the polymer are mixed together, usually by injecting them under high pressure into an impinging mixer. Then the mixture is injected under lower pressure into a mold. The mixture is allowed to sit in the mold long enough for it to expand and cure.
If reinforcing agents are added to the mixture then the process is known as reinforced reaction injection molding (RRIM). Common reinforcing agents include glass fibers and mica. This process is usually used to produce rigid foam automotive panels.
A subset of RIM is structural reaction injection molding (SRIM), which uses fiber meshes for the reinforcing agent. The fiber mesh is first arranged in the mold and then the polymer mixture is injection molded over it.
The most common RIM processable material is polyurethane (known generally as PU-RIM), but others include polyureas, polyisocyanurates, polyesters, polyphenols, polyepoxides, and nylon 6. For polyurethane one component of the mixture is polyisocyanate and the other component is a blend of polyol, surfactant, catalyst, and blowing agent.
Reaction Injection Molding Advantages and disadvantages
Reaction injection molding can produce strong, flexible, lightweight parts which can easily be painted. It also has the advantage of quick cycle times compared to typical vacuum cast materials.[citation needed] The bi-component mixture injected into the mold has a much lower viscosity than molten thermoplastic polymers, therefore large, light-weight, and thin-walled items can be successfully RIM processed. This thinner mixture also requires less clamping forces, which leads to smaller equipment and ultimately lower capital expenditures. Another advantage of RIM processed foam is that a high-density skin is formed with a low-density core.
The disadvantages are slow cycle times, compared to injection molding, and expensive raw materials.
Reaction Injection Molding Tooling
Machined steel or aluminum; cast aluminum; silicone rubber; epoxy resin; nickel. The machines can be large or small depending on the size of part required.
RIM Process vs. Others for Polyurethane Parts Manufacturing
Reaction injection molding has many benefits: low tooling costs, short lead-times, large lightweight parts, high tolerances, enhanced design finish, desired chemical resistance properties, 94V-0 and HB ratings, customizing part properties, and molding over metal, wood, glass, computer chips and other parts.
Reaction injection molding is generally most cost-effective for the production of a few hundred to several thousand parts, but one RIM Manufacturing client has looked to us to produce more than 1,000,000 parts per year for 10 years.
Injection Molding
RIM Advantages
l Approximately 70% less expensive
l Molds thick, lightweight structural parts without sink
l Varying wall thicknesses on same part
l Similar tolerances to injection molding
l Molds over metal, glass, wood, wiring, circuit boards, hardware, etc.
l Much better economies for lower volume parts
l Shorter tooling lead times
Injection Molding Advantages
l Lower high-volume per-part cost
l Colored plastic parts don't need paint
l Finer part detail
l Greater range of material choices
Thermoforming
RIM Advantages
l Much greater design freedom
l Lower costs for complex parts
l Higher part tolerances
l Combination of multiple parts
l Molded-in bosses, ribs and other 3D features
l Thicker, stronger parts
Thermoforming Advantages
l Less expensive simple parts
l No paint needed for single-color parts
l Generally less expensive tooling
Rotational Molding
RIM Advantages
l More sophisticated design
l Higher tolerances
l Increased strength and durability
Rotational Molding Advantages
l Hollow part molding
Sheet Metal
RIM Advantages
l Much greater freedom to design attractive, sculpted parts
l Less expensive complex or curved parts
l Generally lighter-weight parts
l Enhanced sound and vibration insulation
l In-mold painting
l Soft-touch or flexible parts possible
l Encapsulation of parts–glass, metal, wood, wiring, circuit boards, etc
l High corrosion- and rust-resistance
l Non-conductive
Sheet Metal Advantages
l Parts sometimes structurally stronger
l No additional EMI/RFI Shielding needed
l Less expensive tooling
l Lower expense for simple parts
Die Casting
RIM Advantages
l Lower weight
l Higher tolerances
l Greater design freedom
l No brittle parts
l Net shape with no machining
l Corrosion-resistance
Die Casting Advantages
l Low tooling cost
l Shorter lead-time
Founded in 1996, Jevny Technology Co.,Ltd has grown to be one of themost professional independently owned plants in China specializing in custom Reaction Injection Molding. ISO9001:2008/ISO14001:2004 Certified for RIM Molding, we optimize RIM processes for our clients with our significant design expertise. Through integrated manufacturing services in China, we are able to assist you with everything from concept to finished product, based on your needs and goals. If you think that your next project may benefit from Reaction Injection Molding, contact us at Freequote@jevny.com to get more information about our Reaction Injection Molding service.