Urethane Casting Home > Urethane Casting
Services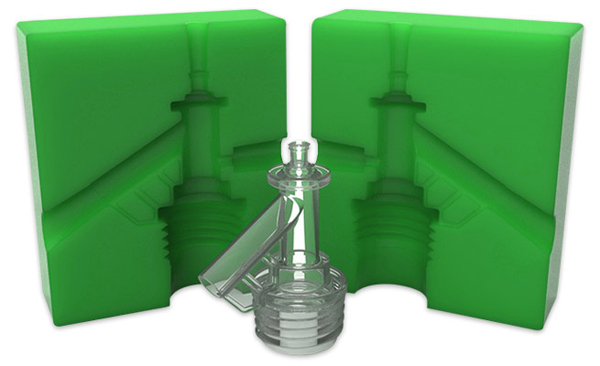 Urethane Casting(Vacuum Casting) is most commonly used during the prototyping process, and can generally be expected to hold +/- .010" tolerances with +/-0.0015 in/in (parts larger than 20" may result in tolerances even beyond those stated). When multiple parts are needed, urethane casting can be used to fill the gap between prototype and production. Urethane prototypes can be of nearly any size and shape and can be color matched by either a pantone number or a color chip.
Urethane Casting creates low volumes of production urethane parts using silicone molds. It is an ideal solution for molded parts on a short timeline, and the materials we use—Advanced Formula Polymers—offer an array of mechanical and thermal properties for a variety of applications. Urethane Casting gives companies a first-to-market advantage through the use of 3D printed quick-turn master patterns, quick curing silicone molds, and first shots within 7 – 10 business days allowing companies to get their products on shelves long before hard-tooling for traditional injection molding could be completed.
Urethane Casting enables designers and engineers to get production-like material parts in their hands quickly, whether a company is in the midst of the prototyping phase of product development or needing finished looking parts for final tests and presentations. From models to prototypes for short-run applications like product trials, urethane casting is a great way to fabricate a low volume of parts that accurately mimic the color, texture, feel, and other physical properties achieved if it was an injection molded part.
Why Urethane Casting:
Because of the flexibility of the silicone, reverse draft, inserts and undercuts are more easily dealt with than in injection molding.Silicone molds are capable of reproducing incredible detail, including custom textures.Urethane casting provides fast turnaround.
Urethane Casting Advantages:
DURABILITY
Polyurethane cast materials are available in rigid or flexible end-use plastics. Urethane cast parts are generally as tough or tougher than injection molded pieces, and are significantly stronger than 3D printed counterparts.
SCALABILITY
Our casting process is optimal for low-volume production for quantities of one to several hundred. On average, a silicone mold can accurately cast about 20-50 parts. The maximum quantity varies based on part design and material cast.
MATERIAL SELECTION
We offer a wide range of rigid and flexible urethane cast materials, from very soft and flexible (Shore A) to extremely rigid and impact resistant (Shore D). Parts are cast in a color that is blended to your specifications.
COLOR MATCHING & FINISHES
The urethane casting process is capable of reproducing small details. Little to no finishing is required, because the desired textures and finish levels are applied to the master pattern.
RAPID TURNAROUND
Urethane cast parts are shipped within 15 business days, depending on order specifications and volume. By contrast, injection molded parts can take months to build.
Urethane Casting Materials:
At Jevny Prototypes, a prototype material can be chosen to match nearly any production material, from 5 shore A to 80 shore D. Some of the many materials that can be used are: two part thermoset urethanes, silicone rubber, wax and epoxies. Prototype materials and processes can simulate many of the thermoplastics' characteristics of hardness, clarity, flexibility and impact resistance, giving you cast urethane prototype the same look and feel as a true production part.
Urethane Casting Applications:
Urethane Casting is an excellent solution for low volume production parts you need fast. There are an array of Advanced Formula Polymers to meet industry-specific applications, including medical-grade and UL 94 V-0 flame rating for production applications. Common applications include:Visual Models / Market Testing / Product Testing / Alpha & Beta builds / Advanced Prototyping / Low volume production / Color and texture studies / A-Rank vehicle components / Low volume production parts / Pre-production / Bridge to hard tooling parts / Foam parts for aircraft and automotive interiors and more.
Urethane Casting Frequently Asked Questions:
1)How many parts can you get from a single Urethane Casting mold?
It depends on several factors, but a urethane casting mold typically yields 15 to 25 parts. One factor that may reduce the lifespan of a mold is the geometry—sharp edges or deep undercuts tend to deteriorate more quickly. Volume Cast—a process that utilizes hybrid tooling and proprietary casting techniques—can have an extended mold life, up to between 35 and 75 units.
2)What is the largest size of a part can you cast in urethane?
The maximum size for a cast urethane part is approximately 1,000 cubic inches, but large parts can be reviewed on an individual basis to determine compatibility with our casting processes.
3)How soon can I expect to receive a urethane part after I place an order?
Upon receiving CAD data, typical cast urethane projects can be shipped in 7 to 10 days.
4)How does the urethane casting process work?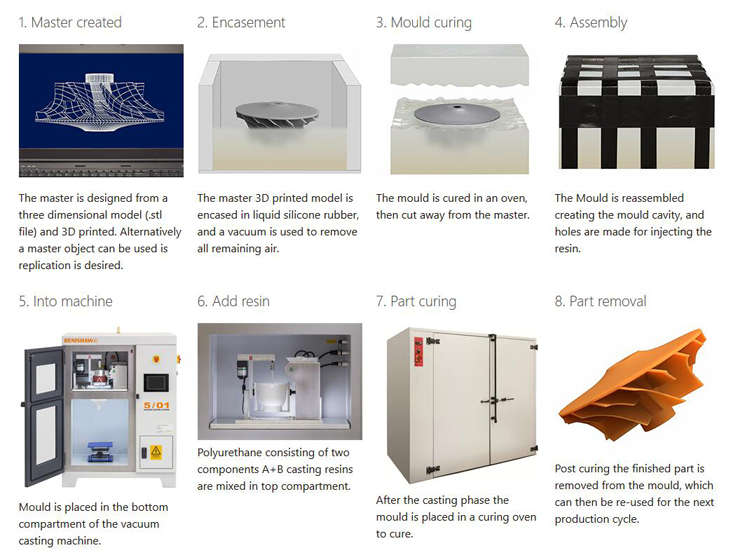 Whether you require inserts, over molding, copper shielding, molded in color/texture or painted in custom color/texture with applied graphics, Jevny urethane casting department will meet your required specifications. Get an Instant Quote for Urethane Casting!