Services

CNC Precision Machining China
CNC machining solutions are required largely in different industrial domains – mainly where different types of products, devices and tools are designed and developed. CNC precision machining is a process utilized in the industry manufacturing that use of lathes, routers, mills, grinders, cutters, EDM machines and various others to get the final part of any metallic device and product. CNC machining from China is gaining momentum day after day because of premium quality and low prices.

Jevny Brings To You Complete Range of CNC Machining China Solutions
Jevny is a leading name in the industry bringing you a broad range of CNC Machining China along with customizable precision CNC machining services as per the customer requirements and drawings for low volume parts, high precision parts, large metal parts, molds, casting parts, welding parts and forging parts from jevny.com
CNC Machining China Solutions for All Kind of Metals
We bring to you complete solutions for a gamut of metals that include, but not limited to steel, aluminum, stainless steel, brass, bronze, copper, alloy, magnesium, titanium and various others. Our CNC machining China solutions and services are not limited to aforementioned points, but have expanded to next level of offering surface treatment services that include metal polishing, brushed metal finishing, shot blasting, sandblasting, spray painting, power coating and various other treatments.
Quality with Assurance of Durability
We have a team of dedicated engineers and experts who have proven track record and years of experience in bringing to you the best quality and advanced CNC Machining solutions. They are working with the motive of continuous innovations and dedications. In order to ensure better quality control, we also follow ISO 9001:2008 quality management system in the production. Our QA team gives assurance of material quality, processing control and outgoing quality control to ensure to meet customer's requirements perfect. We are working dedicatedly to improve quality management and product quality without leave a stone unturned.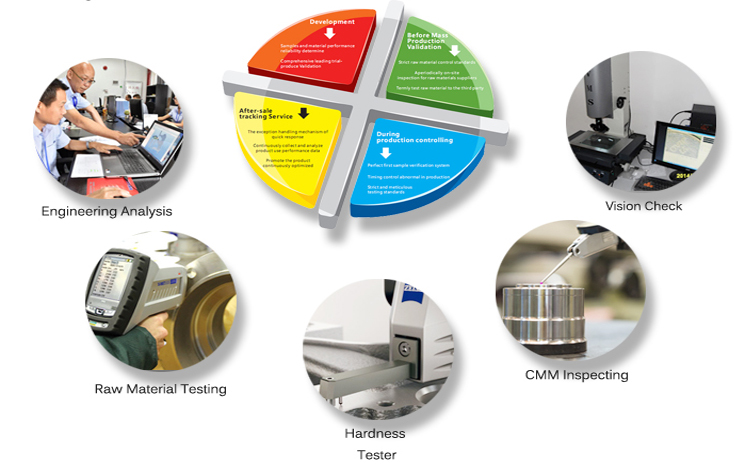 We are equipped with all the essential apparatus, testers and kits to ensure better quality management. Jevny has been working to provide you complete peace of mind and solutions. Please go through our services and contact as for CNC Machining China.
Custom and High Precision for Producing Metal Parts
Jevny combines the latest CNC machining and turning processes with proprietary technology to deliver high quality, on-demand parts. Our typical tolerance accuracy ranges from +/-0.01 to 0.05mm, depending on customer specs. At Jevny, we believe in taking complex, intricate projects and making them a reality. Deliverability is key with our customers and our CNC Machining China service will ensure your product gets to market more efficiently. We invest in the latest machines to ensure even your most complex CNC projects can be delivered on time and within budget. We possess some of the most powerful CNC equipment in the world and our 3 axis and 5 axis machines provide our customers with many material options. At Jevny, we can also produce mock ups that simulate your material, paint, finish and simple operational requirements - creating a near perfect rendering for your original design. This is beyond valuable if you are looking to evaluate your designs or require a prototype for pre-launch publicity and marketing. With over 21 years of trusted experience, Jevny has the resources to make your project a success.
Advantages
RAPID TURNAROUND
Using the latest CNC machines, Jevny produces highly accurate parts in as little as 6 business days.
SCALABILITY
CNC Machining is perfect for production of 1-10,000 parts.
PRECISION
Offers high-precision tolerances ranging from +/-0.01mm – 0.05mm, depending on customer specs.
MATERIAL SELECTION
Choose from over 50 metal and plastic materials. CNC Machining offers a wide variety of certified materials.
CUSTOM FINISHES
Select from a variety of finishes on solid metal or plastic parts, built to precise design specifications.

Materials
METALS
Aluminum
Brass/Bronze
Copper
Magnesium
Stainless Steel
Steel
Titanium
Zinc

In contrast to 3D printing technologies like stereolithography, selective laser sintering, PolyJet™, fused deposition modeling and direct metal laser sintering wherein prototypes are produced by adding material layer by layer, CNC machining is a process that creates parts quickly by removing material with unsurpassed accuracy. CNC machining is short for computer numerical control machining and offers rapid turnaround of machined parts with a high level of precision. CNC machining is one of the fastest way to build functional prototypes, product molds, low to high volume production runs, and fixtures.